There are many different reasons why your air conditioner can freeze up. It is important to figure out why your system is not working properly so that the problem can be resolved quickly. If your unit freezes, turn it off so that the ice will melt and then get in touch with a professional company to assist you. 
Low Refrigerant Levels
One of the main reasons why an AC unit might freeze up is because it has low refrigerant levels. If your refrigerant is not at the right level it will affect your air conditioning unit and cause the air outside and even inside your line to condense and eventually freeze. A professional can help you inspect your refrigerant levels and get them to where they are supposed to be so that your air conditioning systems works the way that it is supposed to. 
Draining Issues
The drain system located in your AC unit is supposed to remove condensed water from your system. If it working properly, you won't have any issues. If it starts to act up, water can start to gather inside your unit. Dirt, dust, and other debris can clog up your drain system. Loose pipes or lines can cause problems too. When water starts to drain outside of your unit, it can cause your system to eventually freeze up.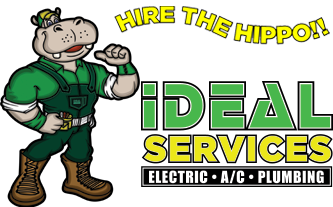 Professionals can check your system for leaks or clogs to help keep your system working the way that it needs to. 
Clogged Air Filter
Your air conditioner can react badly to a clogged air filter. Your air filters need to be cleaned or changed routinely to keep your system working its best. If dirt and other debris starts to build up on your filter, your system will not work the way that it needs to. This could lead to cool air staying inside of your lines longer than it is supposed to. When this happens, condensation occurs that can lead to ice. A professional can check out your filters and make sure that they are clean so that your system does not freeze up. 
Professionals
When you need AC repair or preventative maintenance services, it is important to get in touch with professionals. Ideal Services can help you with all of your AC repair and maintenance services so that your system stays in great working order. We can help prevent your AC unit from freezing up, or we can help unthaw your system and get it working the way it should. Our goal is to help you have a cool and comfortable home. Contact us today to learn more about our services.
Ideal Services
648 Joey Lane
Henderson NV 89011
Google My Business Profile
https://g.page/r/CTVlnY8K3Y3wEBA